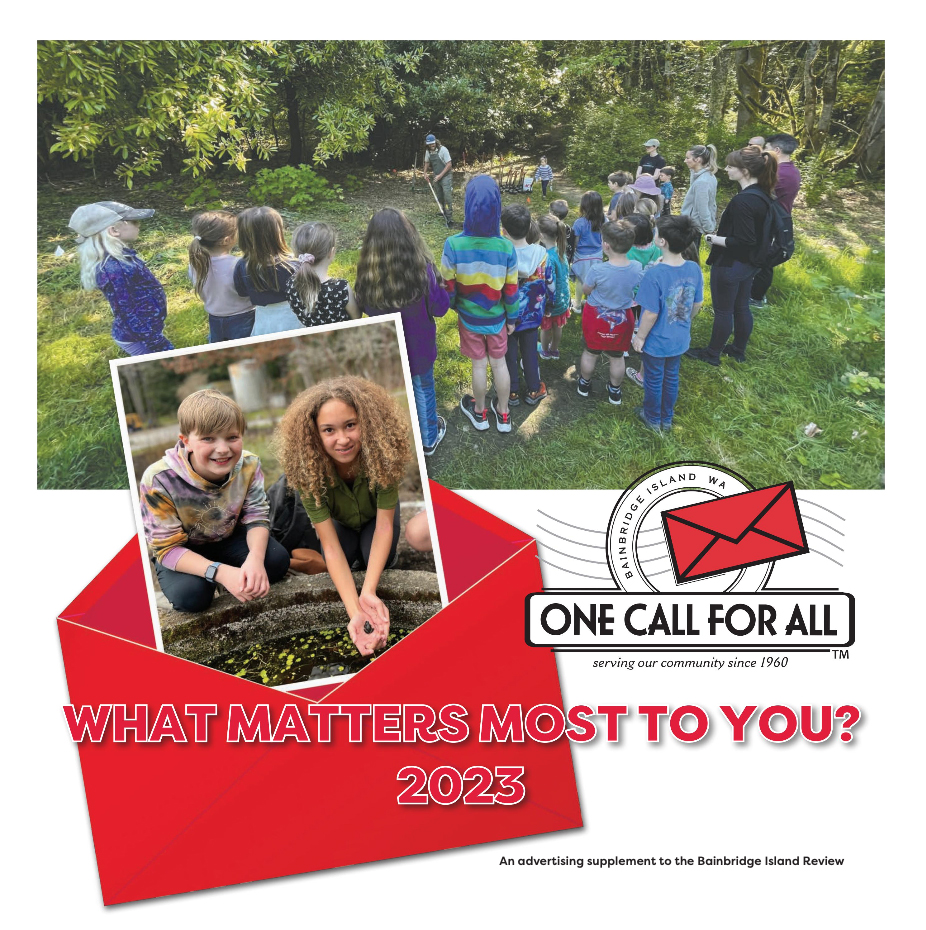 THANK YOU! to One Call for All for making the Marge Williams Center one of the featured organizations in its 2023 campaign. This great feature story appeared in the OCFA "What Matters to You?" supplement in the Oct. 28 edition of the Bainbridge Island Review:
The heart of Bainbridge Island nonprofits
You'd be hard pressed to find a nonprofit with wider – or quieter – impact on the Bainbridge Island community than the Marge Williams Center. From the unassuming, barn-red office building at 221 Winslow Way W., across from Winslow Green, the great works of many local nonprofits flow One Call For All, Bainbridge Island Parks & Trails Foundation, Sustainable
Bainbridge, Bainbridge Island Japanese Exclusion Memorial Association, Arts & Humanities Bainbridge, Bainbridge Youth Services, Bainbridge Island Rowing, PAWS of Bainbridge Island, and Madrona School all call "the Marge" home.
The Center also provides mailboxes for Rotary Club of Bainbridge Island, Squeaky Wheels, Bainbridge Island Genealogical Society, Bainbridge Island Conservation Coalition, and Friends of Little Manzanita Bay.
"So much goes on here that many people may not realize," said Wendy Johnson, Marge Williams Center board president. "But if you look at our tenants and all the truly amazing work they do, it's hard to imagine any family or household on the island that doesn't benefit from the Marge being the Marge.
"We like to think of ourselves as the heart of the nonprofit community on Bainbridge Island."
The Center was founded in 2001 to honor the late Marge Williams, a longtime and beloved island civic leader who owned the building from the 1970s until her death at age 77 in 1998.
Williams served on the Winslow Town Council (before all-island government) and founded the downtown booster organization Team Winslow, precursor to today's Bainbridge Island Downtown Association. She was a member of Bainbridge Island Republican Women and a parishioner at Eagle Harbor Congregational Church.
Williams ran a gift shop on her building's ground floor and lived in an apartment upstairs. After retiring, she rented the ground floor to the Bainbridge Island Review newspaper. Williams lost her life in her home, tragically, in 1998. Her death shocked and saddened the community.
Ed Kushner, then owner of the island's Windermere office, led a campaign to turn the building into a nonprofit center in Williams' memory. A group of "angel investors" put up money to buy the property from Williams' estate, and the refurbished building was dedicated as the Marge Williams Nonprofit Office Center in 2001.
The concept, now as then: to provide low-cost, professional office space for organizations serving Bainbridge Island, creating "a permanent place to nurture nonprofits."
The building includes 11 small offices and an always-in-demand conference room with the latest video meeting technology. Amenities include high-speed wi-fi and a low-cost professional copier.
Organizations including Bainbridge Community Foundation and Bainbridge Island Land Trust got their start at the Marge before "fledging out" to bigger spaces, while other nonprofits have stayed long-term.
"Our goal has always been to remember Marge for all she did for the community, for how she lived, rather than how she died," Johnson said. "I think she'd be pleased with how that has turned out, how much love and goodwill the Marge Center has enjoyed from the beginning."
For its 15th anniversary in 2016, the Center undertook an ambitious capital improvement program including a rooftop solar array and energy-efficient HVAC system. The 20th anniversary passed unremarked under the cloud of Covid, but both building and board emerged with new vitality.
The board has resumed its improvement plan by expanding the solar array – the building should now generate about 50 percent of its own power – and repainting the barn-red exterior.
The solar project was completed with support from Rotary Club of Bainbridge Island, while Bainbridge Community Foundation has provided support for the exterior repaint, a new roof, and technology upgrades in the conference room.
The center remains 100 percent volunteer run and operates on a lean budget from tenant rents.
Support through One Call for All this year will support more building upgrades including repainting common areas, replacing aging windows, rebuilding a rain garden and improving the landscaping that fronts Winslow Way.
Together, the projects will keep the building sustainable and inviting, Johnson said, a professional office environment that even the smallest nonprofits can afford.
"We like to say that every dollar we don't charge in rent, is a dollar our tenants can spend fulfilling their own missions and serving the community," Johnson says. "Gifts to the Marge are really gifts to the community, letting our nonprofits do all the wonderful things they do for all of us."